Wednesday, March 26, 2014
Wednesday, January 22, 2014
Saturday, January 18, 2014
Friday, January 3, 2014
Generally speaking, I think the trend in more design-savvy products is a (long overdue) natural evolution of publication design in comics, where – I hope – we're finally moving away from being slaves to design effects (look at the glut of 90s-early 00s), and we're seeing that, especially in independent comics, creators are more clued in when it comes to design.

I spoke to Multiversity Comics about comics and design, and my work on ZERO.
Nice way to begin the year…design and comics.
Monday, December 9, 2013
Sunday, November 24, 2013
Friday, November 8, 2013
A delicious new kickstarter with amazing artists by Landfill Editions:
Mould Map 3 - On Kickstarter NOW!!! - kck.st/HKzq9D

ALL NEW ART from 35 Established leaders of contemporary graphics, art and comics: Aidan Koch, Amalia Ulman, Angie Wang, Ben Mendelewicz, Blaise Larmee, Brenna Murphy, CF, Cody Cobb, Daniel Swan, Dmitry Sergeev, Gabriel…
Sunday, October 20, 2013
Friday, August 16, 2013
Monday, July 22, 2013
Hmmm this guy…
The Projects presents ::: Ilan Manouach

Ilan Manouach (born in 1980 in Athens) is a visual artist, a musician and a publisher. In 1998 he moves in Belgium to study visual arts and comics. Since then he publishes instinctively and mostly in French, books, sometimes comic books, that seem…
Check out their guests! http://theprojectspdx.tumblr.com/2013%20guests
Support the Projects II Kickstarter for their 2nd Annual EXPERIMENTAL COMICS & ART FESTIVAL in Portland this year:
 http://www.kickstarter.com/projects/floatingworldcomics/the-projects-ii-festival-of-experimental-comics-ar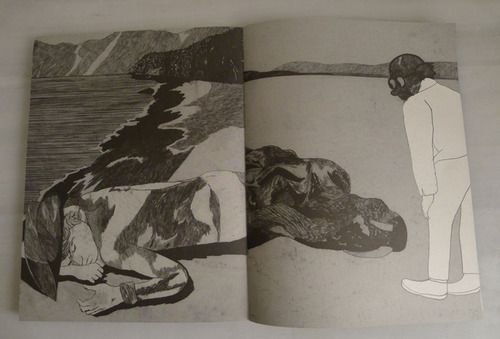 Wednesday, May 22, 2013